Brisbane Airport Corporation (BAC) remains committed to creating jobs and enhancing the passenger experience at this award winning airport.
More than $1.7 billion has already been invested in infrastructure projects since FY12, improving and adding to the airport.
⚠️ COVID-19 impact
With the significant decline in flights and passengers due to COVID-19, a decision was made to re-evaluate and focus on critical project activities in the short-term. Our current focus is on streamlining airport operations, enhancing the passenger experience and maintaining compliance with industry standards. 
Currently, we have a number of critical projects underway across IT, infrastructure, and facilities, located predominately in the Domestic and International Terminal precincts. 
More development is planned moving forward, with one of our largest ongoing projects being the Security Upgrade Project which is taking place across both terminals and expected to be completed by 2025. Security at Brisbane Airport is of a very high standard, but the new technology delivered as part of this project will add a further layer of security while providing benefits to passengers. 
In addition, Brisbane Airport is fortunate to have significant land available for commercial property development. We are still committed to the BNE Auto Mall which will be the only automotive precinct in Australia offering 24/7 operation. The first stage will feature a 2.3-kilometre performance track and is expected to open in 2023.
As the primary gateway to Queensland, Brisbane Airport welcomes millions of visitors every year and continues to announce new direct flights to global destinations, creating jobs and investing in major infrastructure.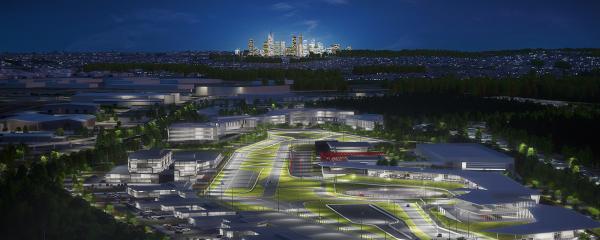 A city-changing development and first-of-its-kind automotive destination in Australia